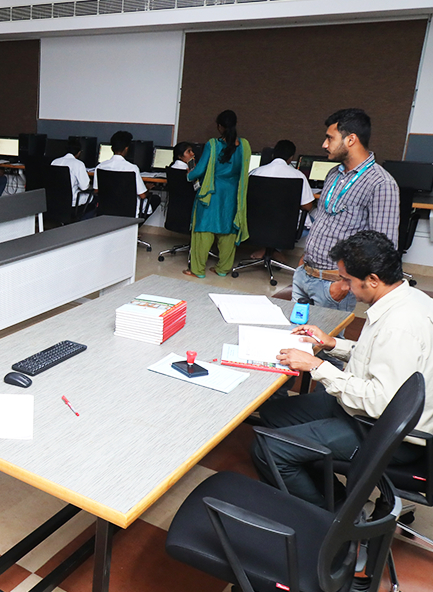 About the programme
Our Computer Science Engineering programme is a four-year intensive degree that focuses on the fundamentals of computer programming and networking. During the course of the program, students will get to learn extensively about computation, algorithms, programming languages, program design, computer software, computer hardware, etc. This will give them a strong foundation and equip them with the skills they need to shine in the real world.
Semesters: 8
Credits: 160
Start date: 1 December, 2022
Eligibility: PUC or an equivalent with a minimum 45% overall grade and 60% subject-wise grade in physics, chemistry, and mathematics.

Diploma
Students with a diploma degree can enter III semester of the programme.
Semesters: 6
Duration: 3 Years
Eligibility: Students must earn 120 credits to qualify for the degree

1 Short-term goals
2 Long-term goals
3 Facilities
1 Short-term goals
Familiarise students with the latest developments in the field 

Help students apply their theoretical knowledge in the real world  

Encourage students to participate in international and national level events and community development activities 

Model students to be global citizens while giving a local perspective of the discipline 

Provide access to industry links for internships and employment opportunities 
2 Long-term goals
Encourage the spirit of entrepreneurship among students

Develop state-of-the-art research facilities to promote innovation
3 Facilities
Analog and Digital Electronics Lab

Data Structures Lab

Microcontroller and Embedded Systems Lab

Design and Analysis of Algorithms Laboratory

Computer Network Laboratory / 18CSL57

DBMS Laboratory With Mini Project / 18CSL58

System Software Laboratory / 18CSL66

Computer Graphics Laboratory with Mini Project/ 18CSL67

Mobile Application Development/ 18CSMP68

Artificial Intelligence & Machine Learning Laboratory Course Code: 18CSL76
Vertical Progression
(PROMOTION / ELIGIBILITY TO HIGHER SEMESTERS / CLASSES)
There shall be no restriction for promotion from odd semester to the even semester, provided the student fulfills the attendance requirement.
A. Vertical progression in case of students admitted to the first year:
A student with CGPA ≥ 5.00 at the end of the first academic year and has no 'F' grade or has not more than four 'F' grades in the first two semesters of the programme shall be eligible to move to II year
A student with CGPA ≥ 5.00 at the end of the second academic year and has no 'F' grade or has not more than four 'F' grades in four semesters ( I and II years) shall be eligible to move to III year
A student with CGPA ≥ 5.00 at the end of the third academic year, and has earned all the prescribed credits of I year, and has no 'F' grade or has not more than four 'F' grades in the four semesters of II and III years shall be eligible to move to IV year
B. A student shall also be eligible for the first time, with a warning to move to higher odd semester, if he/she has failed to secure a minimum CGPA = 5.00 at the end of any academic year
C. For the award of degree, a CGPA ≥ 5.00 at the end of the programme shall be mandatory