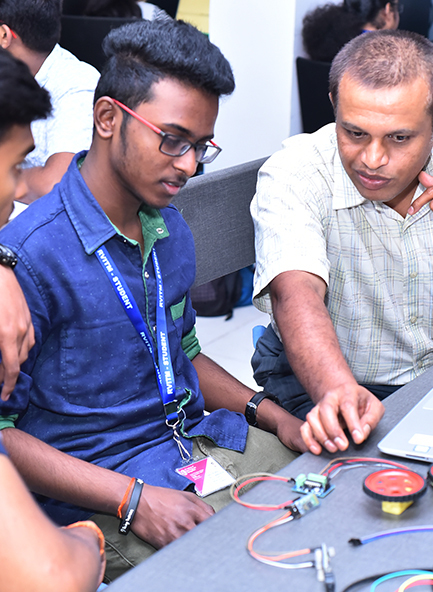 About the programme
Our Mechanical Engineering programme is designed to give students a 360-degree understanding of design, construction, and the use of machines in automobiles, electric motors, aircraft, and more. The four-year course encourages students to pursue research in a wide variety of areas, such as robotics, computer-integrated manufacturing, automation, fracture mechanics, FEM, and design optimization.
Semesters: 8
Credits: 160
Start date: December 1, 2022
Eligibility: PUC or an equivalent with a minimum 45% overall grade and 60% subject-wise grade in physics, chemistry, and mathematics.

Diploma
Students with a diploma degree can enter III semester of the programme.
Semesters: 6
Duration: 3 Years
Eligibility: Students must earn 120 credits to qualify for the degree

1 Short-term goals
2 Long-term goals
3 Facilities
1 Short-term goals
Promote high-quality mechanical education through innovative learning methodologies pertaining to the discipline
Encourage students to participate in a wide range of extracurricular activities
Model students into global citizens while giving them a local perspective of the discipline
Provide access to industry links for internships and employment opportunities
2 Long-term goals
Encourage the spirit of entrepreneurship among students
Develop state-of-the-art research facilities to promote innovation in the field
Promote startup culture by setting up a full-fledged incubation center
3 Facilities
Material Testing Lab

Machine Shop

Mechanical Measurements and Metrology /18MEL47B

Foundry, Forging and Welding Laboratory /18MEL48B

Fluid Mechanics and Machines laboratory/18MEL57

Energy Conversion Lab/18MEL58

Computer Aided Modelling and Analysis (CAMA) Laboratory (ANSYS Laboratory) /18MEL66

Heat Transfer Laboratory /18MEL67

Computer Aided Manufacturing (CAM) Lab / 18MEL76

Design Lab / 18MEL77

Introduction to Python / 21ME381

Machine Drawing and GD & T Laboratory / 21MEL35
Vertical Progression
(PROMOTION / ELIGIBILITY TO HIGHER SEMESTERS / CLASSES)
There shall be no restriction for promotion from odd semester to the even semester, provided the student fulfills the attendance requirement.
A. Vertical progression in case of students admitted to the first year:
A student with CGPA ≥ 5.00 at the end of the first academic year and has no 'F' grade or has not more than four 'F' grades in the first two semesters of the programme shall be eligible to move to II year
A student with CGPA ≥ 5.00 at the end of the second academic year and has no 'F' grade or has not more than four 'F' grades in four semesters ( I and II years) shall be eligible to move to III year
A student with CGPA ≥ 5.00 at the end of the third academic year, and has earned all the prescribed credits of I year, and has no 'F' grade or has not more than four 'F' grades in the four semesters of II and III years shall be eligible to move to IV year
B. A student shall also be eligible for the first time, with a warning to move to higher odd semester, if he/she has failed to secure a minimum CGPA = 5.00 at the end of any academic year
C. For the award of degree, a CGPA ≥ 5.00 at the end of the programme shall be mandatory